Our Instructors
Meet David Fritz, PGA of Canada

David has been a PGA of Canada Professional for over twenty five years. Throughout the various stages of his career, he has gained experience at some of the finest golf clubs in the Greater Toronto Area. He has had the opportunity to work with world-class golf professionals, top coaches and instructors. He is a Board member of the Canadian Junior Golf Association and is very active in developing junior golf in this country.  David also played competitive golf at the University of Akron in Ohio.
David is a results oriented coach. He incorporates swing essentials, golf biomechanics and game strategies into his teaching. He has developed progressive training programs for men and women of all abilities and has created introductory and high performance programs for juniors. He brings a wealth of knowledge to his students and is able to communicate that knowledge in a simplistic manner while assisting them achieve their goals.
It is quite apparent that David loves teaching golf and seeing his students succeed. David provides golf lessons and golf instruction that is tailored to your personal needs. He is committed to providing a positive learning experience for all students. while improving all aspects of your game. Students will welcome David's warm personality and passion for the game of golf.
Shawn Aucoin, Lead  Instructor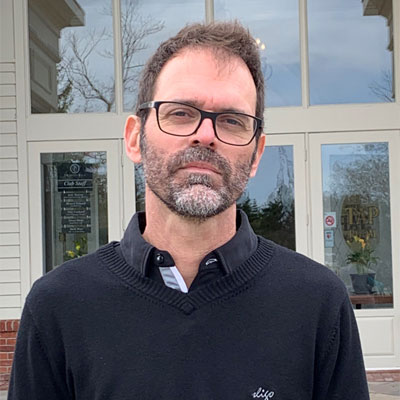 A PGA of Canada member for over 20 years. Prior to becoming a founding partner of Sligo Wear golf apparel brand Shawn spent his time instructing golf at the world renowned Pulpit Club in Caledon, Ontario under the mentorship of PGA of Canada Hall of Fame member Ben Kern. Shawn enjoys passing on his passion and knowledge of the game to everyone he teaches regardless of experience.
Hap Gill, Lead  Instructor
2023 Top 50 Coach in Canada by Canadian Golf Teachers Federation 
2021 & 2022  Top 50 Coach Honorable Mention by US Kids Golf
2022 Stack & Tilt Certified under reknowned US Instructor Andy Plummer
Hap is an outstanding golf teaching professional who has played the game for over 20 years and is a very accomplished player and coach. He is certified by CGTF, USGTF,  WGTF and is US Kids Level 2.  Hap has a Bachelor of Education and a degree in Biomechanics.  He is Golf Pyschology Certified allowing him to help golfers cope with mental hurdles.  Hap is very proficient with both beginners and advanced golfers who want to improve on their existing skills .  He is Trackman University certified allowing him to accurately interpret the metrics of a swing and  provide appropriate feedback.. Hap is also a National level 2 soccer and tennis coach.  He has conducted thousands of hours of camps, clinics, group, semi-private and private lessons. Hap prides himself on providing quality service and ensuring that his students make improvements while continuing to enjoy the great game of golf!
David Georgievski, Senior Instructor
Almost completely self-taught, David understands how to build a swing from the ground up. Focusing on solid fundamentals, he enjoys working with beginner and intermediate players who are looking to gain speed, improve their ball striking, and dial in their accuracy. David enjoys a simple and straight forward approach to the game, and coaches in a similar easy to understand way. He strives to help build a swing that feels comfortable, consistent, and unique to each of his students.
Zach Giusti, Senior Instructor
For the past 6 years Zach has been playing golf professionally across North America on The Mackenzie Tour (PGA Tour Canada) and various mini tours. Zach has worked at Westview Golf Course since he was 15 years old and loves being around the game in any capacity. Zach has won professionally on the Toronto Players Tour and is also an ISSA Certified Personal Trainer, so he knows what it takes both physically and mentally to compete with some of the best players in the sport. Whether you're a beginner trying to learn the basics or a low single digit handicap, Zach is confident he can help you achieve both your short and long term golf goals.

Michael Heaney, Senior Instructor
Michael has been a Class 'A'  Teaching Professional  for  over 25 years. His passion for golf led him to play University golf in Texas. to attend School in Texas.  Michael has proven experience teaching golf to all levels  from beginners to advanced. His teaching philosophy has always been about understanding the level of my students, teaching techniques and skills to advance their abilities and to have fun while they learn to play the great game of golf.
Brady Futterer, Junior Instructor
Brady has been involved with the game of golf for over 10 years, competing at a high level before transitioning to coaching. He is a certified golf instructor through the Canadian Golf Teachers Federation and has been teaching golf for 3 years. Brady played competitive junior golf winning 3 times in his junior career. He then went on to then play collegiate golf both in the United States and Canada. He is also a former caddie at Magna Golf Club and caddied in the Canadian Women's Open in 2019. Through his years of training and development, he has built a strong knowledge and understanding of the game. Brady has a great passion for the game of golf and loves to share his knowledge with golfers of all levels.
Dave Horne, Senior Instructor
Dave became certified as a Master Golf Teaching professional in 2011 through the Canadian Golf Teachers Federation, US Golf Teachers Federation and the World Golf Teachers Federation. 
In 2020 Dave was proudly named one of the top 50 Golf Professionals in Canada by the Canadian Golf Teachers Federation (CGTF)
To better understand the mental game of golf, Dave became a Certified Golf Psychologist. Dave wanted to help golfers unlock and overcome any psychological obstacles that may be holding them back.
To enhance his ability to take students to the next level, Dave became a Certified TPI coach.  As Certified TPI coach Dave can properly screen, assess, and analyze golfer's abilities as well as physical limitations in order to understand their strengths and weaknesses plus help them understand how ground forces and biomechanics work in their swing.
"Looking forward to working with you and helping you improve your golf game."